Our Mission
That men and women may work in safety and that they, their families, and their communities may live in health throughout the world.
Embracing Change and Encouraging Innovation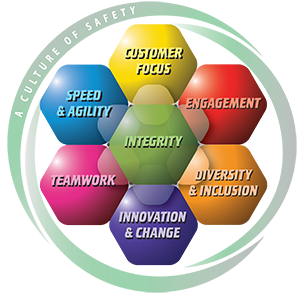 MSA is an organization fully committed to protecting the health and safety of our customers, and we spend countless hours developing, testing, and evaluating our products to ensure we achieve our goals. Our company was founded in 1914 from humble beginnings and has grown to include more than 4.800 employees across the world, protecting workers in more than 140 countries. But we've never forgotten who we are, or who we work for: our customers. Their satisfaction and safety are our top goals, every day.
MSA's values are the foundation of our company culture. Our seven core values define who we are and what make us truly stand apart. Most of all, they are encompassed by a "culture of safety" that helps to ensure we never lose sight of our mission and how it applies to our very own people around the world.
Customer Focus
We are fully focused on our customers' complete safety and satisfaction. We aim to keep our customers happy by listening closely to their needs, delivering high-quality products, and backing them with support services unmatched in the industry.

Integrity
It is our foundational value. Whether we're testing equipment or advising a customer on how to manage a hazardous situation, we conduct ourselves with unwavering honesty, professionalism, and the highest levels of ethical behavior. Without integrity, nothing else matters at MSA.

Speed & Agility
Technology changes rapidly, and operating with speed and agility is crucial for any business. We anticipate and respond quickly to issues, opportunities, and our customers' needs.

Innovation & Change
We recognize that advancements in safety and technology are most likely when people push their boundaries. So we encourage innovation and embrace change at every level of our organization. We reward creativity, we learn from our failures, and build on our successes.
Diversity & Inclusion
We welcome a wide variety of people, thoughts, perspectives, and ideas. This openness enables us to utilize the rich dimensions of each individual and helps us ensure our company is always advancing and learning from our employees. We welcome and learn from feedback within all areas of the organization.

Teamwork
As MSA grows, it's crucial that our associates work collaboratively to help us reach our goals of innovation, safety, and customer satisfaction. This mindset allows us to share ideas, develop skills, operate efficiently, and continue to innovate. Above all, our culture of teamwork helps us exceed our customers' expectations.

Engagement
We help our associates reach their fullest potential because it enhances company performance, drives motivation, and leads to employee fulfillment. We provide timely feedback, project ownership, and opportunities to grow.