Latchways® Vertical Ladder Lifeline Kits
View Part Numbers
Latchways Vertical Ladder Lifeline Kits allow for hands-free movement up and down the entire height of the fixed ladder, eliminating the need to disconnect and find new tie-off points while ascending or descending the ladder. These vertical ladder lifeline kits come in multiple lengths for different ladder heights and must be used in conjunction with the Latchways LadderLatch™ climbing device (sold separately).
Latchways® Vertical Ladder Lifeline Kits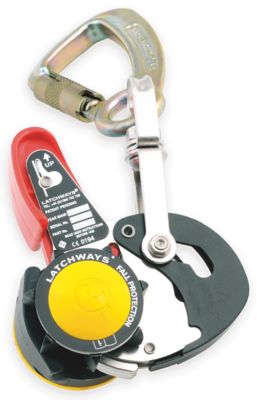 MSA Latchways Vertical Ladder Lifeline Kits provide an easy-to-install solution when fall protection is necessary for climbing on fixed ladders.
Self-installed fixed ladder fall protection
Used in conjunction with Latchways LadderLatch™ attachment device (SOLD SEPARATELY)
All stainless steel components
Available with extension post for better user mobility
Markets:
Construction, General Industry, Utilities
Applications:
Working at Heights
Approvals subject to change without notice and may differ based on configuration, part number and/or country.
Contact Customer Service or check approval label on product for specific approval information.
ANSI Z359.16 - 2016
CSA Z59.2.5
OSHA 1910 Walking-Working Surfaces ladder fall protection
EN 353:1
AS/NZ 1891.4