Featured
OptimAir® TL PAPR
The low-profile OptimAir® TL Powered Air-Purifying Respirator combines state-of-the-art design with superior "smart" features. The unit packages the motor blower, cartridges, and battery in a single hip-hugging design for lightweight comfort and fit. The low profile motor blower offers optimal airflow through a crushproof breathing tube, while the ergonomic battery pack allows for free movement within confined spaces. The unit automatically adjusts flow rates for altitude via an internal pressure sensor, while the cutting-edge design permits fast, accurate change-out of cartridges, hoods and batteries. The standard kit includes motor blower, smart charger, standard battery, hose, and decon belt.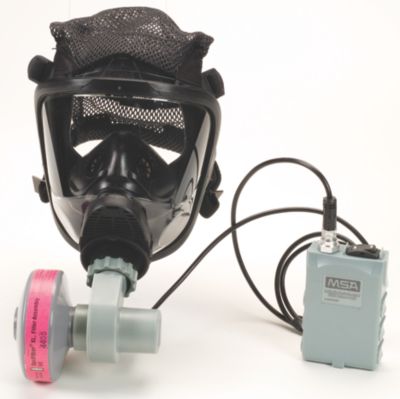 OptimAir® Mask-Mounted PAPR
Specifically designed for our Advantage® 3000, Advantage® 4000, Ultravue®, or Ultra Elite® facepiece models, the OptimAir® MM2K powered air-purifying respirator (PAPR) is precision-crafted to offer long life, high performance, and low maintenance. The compact, easy-to-decontaminate model uses a rechargeable NiMH battery for 8 hours of continuous use, while a dual-rate smart charger fully powers a discharged battery in less than three hours. The water-resistant HEPA filter helps protect against particulate contaminants. The light blower attaches to the facepiece, while the Type HE Optifilter® Cartridges remove particulates.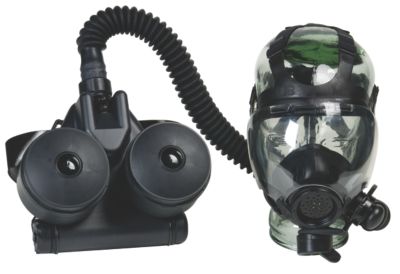 Responder® PAPR
With its industry-leading motor-blower and constantly filtered airflow, the belt-mounted Responder CBRN PAPR is ideal for first responders, military, and special ops personnel who require non-IDLH respiratory protection for up to 8 hours. The unit offers a choice of two MSA gas mask CBRN facepieces and three proprietary cartridges designed for CBRN, particulate and poisonous gases or vapors. The unit's constant airflow helps a user stay physically alert and focused, while also preventing fogging in the facepiece. Batteries can be "hot-swapped," and the blower's EMI shield ensures there is no interference with radio communications.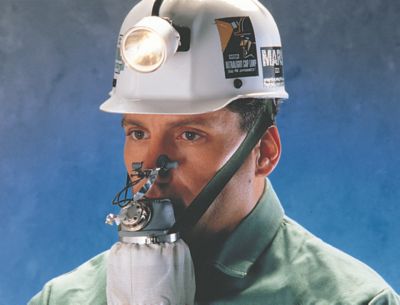 W65 Self-Rescuer Respirator
The MSA Filter Self-Rescuers W65-2/W65 and W 95 are Air-Purifying Respi rators for one-time escape use providing protection against toxic carbon monoxide (CO) and other gases emitted in underground mine fires or explosions. The Filter Self-Rescuer is immediately ready-for-use after opening and removal from the container. It has a Latex-free mouthpiece and nose clip to reliably protect the user from the contaminated ambient air. The adjustable head harness allows for a tight fit and hands-free usage. The sturdy stainless steel container is hermeticly sealed, providing long-lasting protection for the respirator.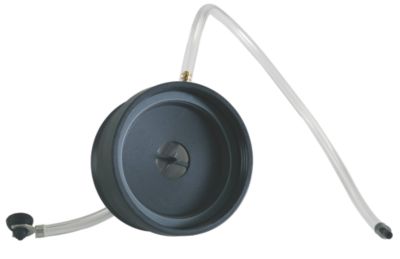 Fit Test Adapters
MSA offers a variety of fit testing adapters including: * APR Adapter: designed for use in non-IDLH environments and is NIOSH-approved. * Advantage® Fit Test Adapter: allows quantitative fit tests to be performed on bayonet cartridge style respirators (i.e., Advantage 200LS Half Mask and Advantage 3200 Full Facepiece Respirator). * QuikChek® Fit-Test Adapter: use with MSA respirators equipped with demand-style Ultravue® full facepieces or Comfo® Classic, Comfo Elite®, and Ultra-Twin® facepieces. * QuikChek® II Fit-Test Adapter: allows quantitative fit testing of any Comfo® II, Comfo Classic®, Comfo Elite®, Duo-Twin® or Ultra-Twin® respirator. * QuikChek® III Fit-Test Adapter: designed for Ultra Elite® full facepieces and attaches to the BMR adapter assembly. The MMR PD Ultra Elite® facepiece requires the QuickChek® IV, which comes with one P100 cartridge. * QuikCheck® IV Fit-Test Adapter: designed for Ultra Elite® and Ultravue® full facepieces with quarter-turn quick disconnect. Includes one P100 cartridge.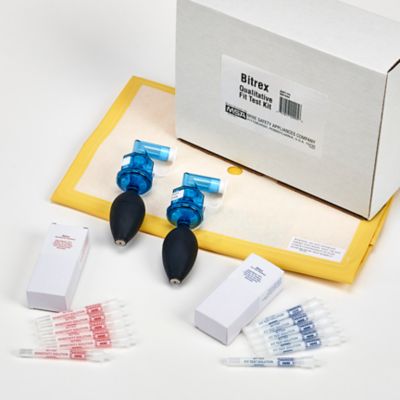 Fit Test Kits
MSA offers a variety of qualitative fit test kits to help users ensure a proper facepiece fit. The Occupational Safety and Health Administration (OSHA) requires proper fit for workers who use respirators. Products include: * Bitrex Qualitative Fit Test Kit * Saccharin Qualitative Fit Test Kit * Banana Oil Qualitative Fit Test Kit